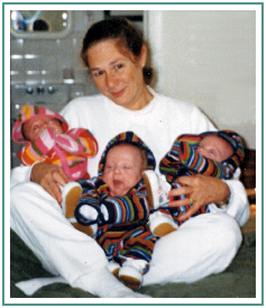 Sarah is a home healthcare provider specializing in the care of newborns and their families. With sensitivity and respect she offers her educated help regarding infant-mother care, basic infant growth and development, infant safety and nutrition. Sarah's role is to help the household run smoothly, particularly during the early weeks of the infant or infants. To do this she also helps care for siblings, runs errands and does just about any task that needs to be done to enable the mother to recover comfortably from natural or caesarian childbirth. Sarah guides the mother with nursing and/or bottle-feeding techniques and cares for the baby or babies to give the mother a rest and to help encourage a healthy infant sleep routine that is good for everyone in the family.
Sarah's babycare experience is extensive and includes the care of many preemies, twins and triplets. Her excellent references are available on request. An in-home interview is suggested - at no cost or obligation.
Sarah is married to Greg and the mother of three adult daughters and six grandchildren. She and Greg also have two dogs.
Memberships:
DONA International (Doulas of North America)
Association for Prenatal and Perinatal Psychology and Health (APPAH)
National Association for the Education of Young Children (NAEYC)
American Association of University Women
US Chapter - International Association of Infant Massage
National Association Mothers Centers (NAMC)
Connecticut Perinatal Association (CPA)
Postpartum Support International (PSI CT)
Education:
MA Teachers College, Columbia University, NYC
Developmental Psychology emphasis on infant development
Certifications:
Nurse Aide Registry (CT)
Child Development Associate with Infant/Toddler endorsement (NAEYC)
Infant and Child CPR
Occupational Safety and Health Training
CT Child Care
Certified Educator of Infant Massage
Certified Lactation Counselor